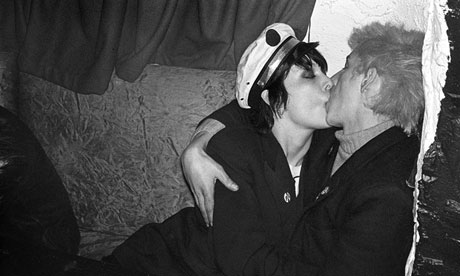 Read more in the
Guardian
.   Derek's current solo show is at The Society Club until August.
The Look of Love: The Life and Times of Paul Raymond, Soho's King of Clubs
Tuesday, May 21st
7.00-9.00pm
The Society Club, 12 Ingestre Place, London W1F 0JF
Join The Society Club as we welcome Paul Willetts, acclaimed biographer and author of The Look of Love: The Life and Times of Paul Raymond, Soho's King of Clubs
Celebrated chronicler of Soho bohemia, Paul Willetts, will be discussing his tragic-comic biography of Paul Raymond, on which the stylish new Michael Winterbottom movie is based. Raymond—often labelled by the press as "the King of Soho"—was one of post-war Britain's most scandalous celebrities, probably best-known as the founder of the Raymond Revuebar, the glamorous strip-club that attracted everyone from Judy Garland to the Beatles.
"This fascinating study is as much a history of London's square mile of vice as an account of one man's life… Thoroughly researched and extremely well-written, this is an impressive book. Not since John Dickie's Cosa Nostra have I read anything that exerts such hypnotic fascination for its sometimes repellent subject." (The Observer)
Paul Willetts is the author of two previous, much-praised works of non-fiction, Fear and Loathing in Fitzrovia and North Soho 999. Alongside these, he has edited four much-praised collections of writing by the bohemian dandy, Julian Maclaren-Ross, who was the subject of Fear and Loathing in Fitzrovia, widely nominated as one of the "Books of 2003". He also devised and worked as co-photographer on Teenage Flicks, a jokey celebration of Subbuteo, featuring contributions by Will Self, David Baddiel and others. His journalism has appeared in The Independent, The Guardian, The Daily Telegraph and elsewhere.
A night of short story readings, conversations & wine
Saturday, May 25th
6-8pm
The Society Club
12 Ingestre Place
W1F0JF
£10 on the door
RSVP here
Soak up all the atmosphere of London's most intimate literary event in the company of master storytellers.  This month their tales will take you from the heart of Soho to the further reaches of the imagination.
Helen Simpson is the author of five collections of stories, the most recent of which is In-Flight Entertainment.
Ben Fountain is the author of Brief Encounters with Che Guevara and has received several notable awards.
Roshi Fernando is the author of Homesick, a series of interlinked short stories about a community of Sri Lankan immigrants in London.
Anna Stothard is a novelist and travel writer.  Her latest book, The Art of Leaving, has just been published.